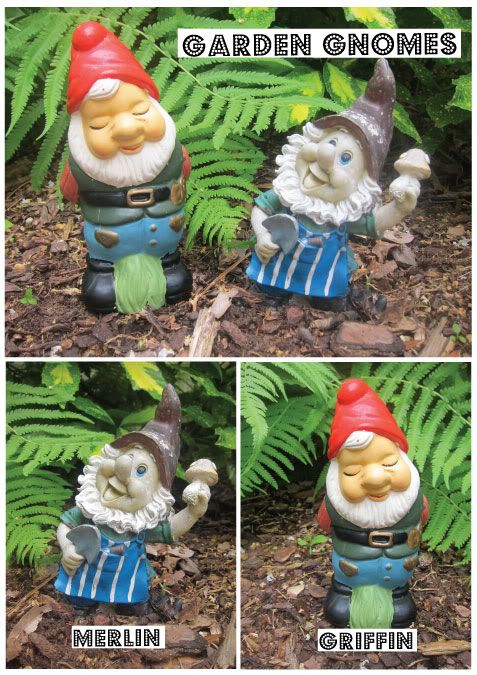 Look what I found thrifting this weekend. It is so funny, because I have been hoping and wishing I would come across a cute little garden gnome. And look! I found two. It has long been known to be good luck to place the Gnome in garden and home. These two gnomes are sitting inside for the moment, in our potted plants, only because I am too scared our neighbors will take them if we put them outside. I live in a college town, so I'm a little weary of placing prized objects on the front lawn. Kinda silly I guess, but I would be SO upset if they disappeared.
Gavin and I named them

Merlin

, and

Griffin

.
Merlin is a happy little fellow who came from an imaginary smurf like town named Squinnland. Merlin enjoys watching monarch butterflies, and sneezes when the sun is too bright.
Griffin is quite the opposite, he is the quit one. He seems pretty content to just shut his eyes and snooze off when no one is watching.. as you can see I caught him right in the act.

These little guys remind me of a GREAT French movie I saw recently, Amelie.

Amelie (check out the trailer) is quite an unusual girl with a pretty funny past. This is such a unique film and I highly recommend you watch it.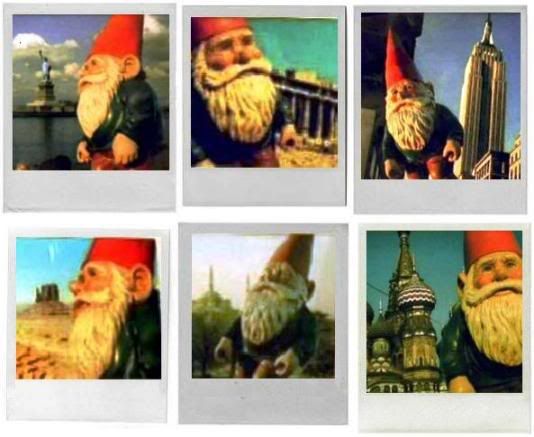 Somehow a garden gnome in this film makes some kind of sense. In the movie Amelie's father refuses to leave the shrine-topped with a lawn gnome- he has built to his departed wife. In order to get her father to see the world, Amelie kidnaps the lawn gnome and gives it to her friend who is a flight attendant. Amelie's friend proceeds to send pictures and postcards back to Amelie's father detailing the gnome's adventures. Eventually Amelie's father works up the courage to leave his home.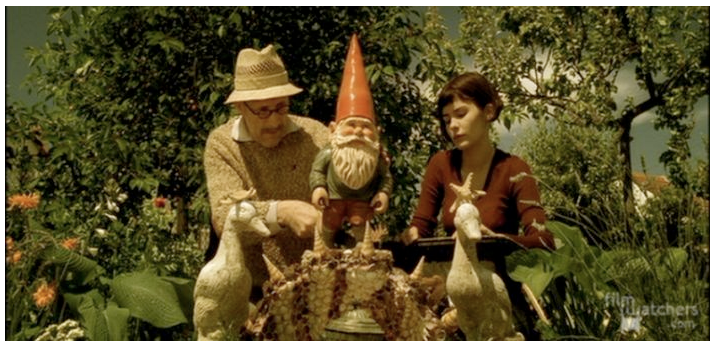 Here are a few fellas I found on ETSY
source
source
Does anyone else have a garden gnome? What are their names, and stories?